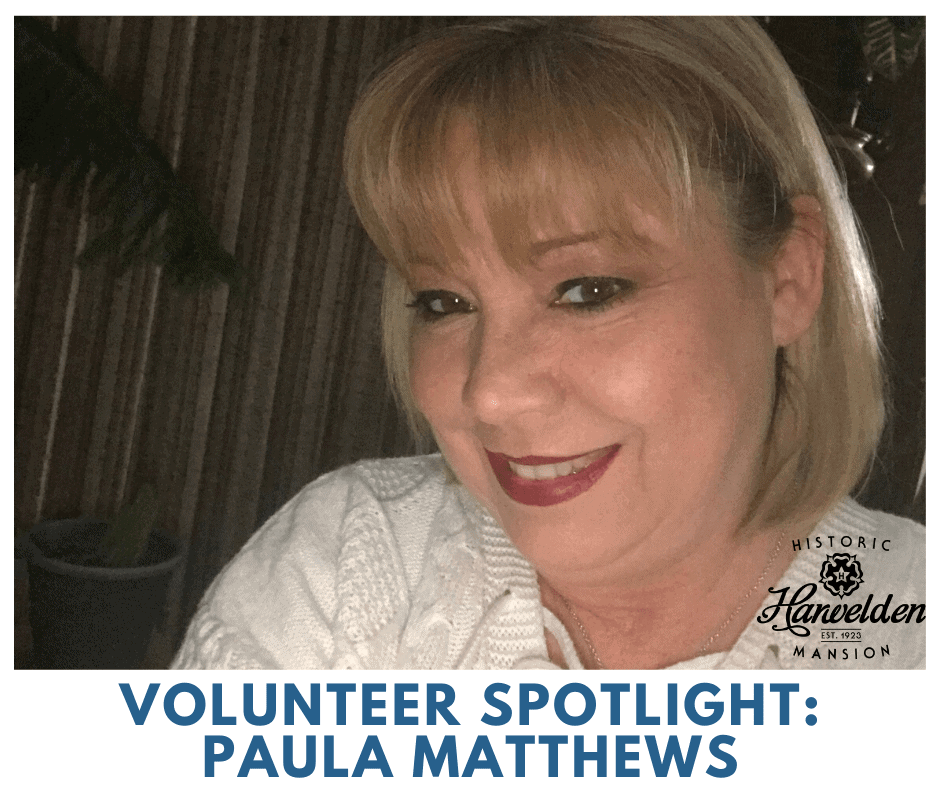 Welcome to the second rendition of our Volunteer Spotlight segment. This month, you get to meet Paula Matthews, one of first event volunteers.   If you have attended one of our Afternoon Teas or other public events, you have probably met or visited with Paula.  She is always there to greet you with a warm smile and a desire to assist! Learn more about Paula below and you'll understand why we are lucky to have her on our volunteer team. 
My name is Paula Deann Matthews; I was born in Claremore, Oklahoma but grew up in several humble communities.  I married the love of my life, Steve Matthews, 30 years ago; we have 2 daughters, 2 grand-daughters and a set of grand twins on the way. I enrolled in Barber College when I was 21 years old. I have been a barber for 30 plus years and owned my own Barber/Salon for 20 years. I have also been on the Oklahoma Barber Board for 12 years and was part of the merging of the Cosmetology and Barber board in 2013. I have worked for Community HigherEd for 11 years and I am the Department Head for the barber program at Clary Sage College.
Why do you volunteer?
I love Tulsa, Oklahoma and I enjoy its interesting history, especially the 1920's when the Harwelden was built.
What inspired you to choose Harwelden?
Putting the extraordinary beauty of the mansion aside, the history of the Harwelden is quite fascinating. I wanted to learn more about the Harwell family and the details of the English Tudor architecture. Mostly, I enjoy being with the Harwelden team and the other volunteers.
What surprised you the most about the mansion?
The details of the architecture as seen in the limestone, wood, and plaster. It was amazing to me how much thought and consideration was put into the restoration of the mansion and how the top priority was to keep it as original as possible.
What is your favorite part of the mansion? 
It's hard to pick a favorite part of the mansion, but if I had to choose just one, it would be the amazing and grand staircase. Oh, and I love Mary's Chamber! That bridal suite it's so elegant! Who wouldn't want to get ready in such luxury?
What would you say to someone considering visiting Harwelden? 
Whether you want to join in on one of the historic tours or want to stay the night in one of the bedroom suites, make sure you spend enough time to explore all the beauty and history this place has to offer. Inside or outside, don't forget to enjoy the view!
If you love history and enjoy teaching others, learn more about becoming a volunteer at the Harrwelden Mansion, here.