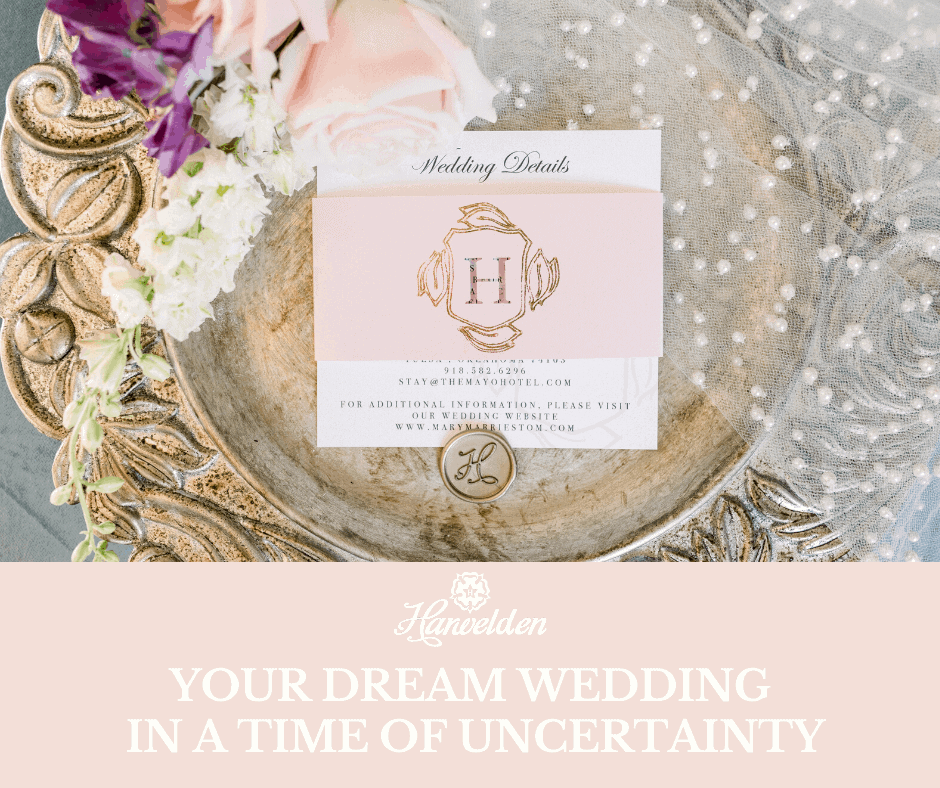 Postpone, Re-Schedule or Elope?
Here are some tips for tackling the stressful task of making a quick change to your wedding day during the Coronavirus outbreak.
Contact Your Venue — First things first, review your venue contract find out about their policy on last-minute changes. During this unprecedented time, most locations will work with you to reschedule. At the historic Harwelden Mansion, we offer both an elopement, small and "boutique wedding" option in order to keep your date and live stream to friends and family so that your loved ones can still celebrate with you.
"Although this virus is causing a lot of anxiety, I want to tell our engaged couples to focus on what they can control as there are plenty of things currently out of our control. This is a wonderful opportunity to focus on each other and plan for a revised event that can potentially be less expensive and more meaningful," says Operations Manager of the Harwelden Mansion, Amber Acosta.
If you decide to live-stream your wedding; determine what social media links and website links your guests will need to access. Although some guests will be disappointed, others may be relieved and will appreciate the opportunity to share this special day with you by viewing online!
Review Vendor Contracts – To save time, re-read the contracts with your vendors before calling. Look for any mention of postponing or cancellations. This will not only save time, but it will also answer questions you may have. Make sure it won't cost you more to cancel than to reschedule. Keywords to look for: postponement, date change or "force majeure". Bottom line, vendors want to work with you and want to be a part of your day. Don't be afraid to reach out and ask questions!
Hire Wedding Planner – If you don't have a professional wedding planner, this is the perfect time to enlist the services of one. Afterall, finding solutions is their game. They will calm your fears and help you make quick changes to your wedding plans. Your wedding planner will also efficiently assist you in contacting your guests and vendors. The perfect asset to your wedding planning team!
Prioritize – If you decide to reschedule the wedding, prioritize your most important family members and vendors. Reduce this list to your top 10. Be aware that it might not be possible to work around everyone's schedule. Start a group text with your family so they can weigh-in and then contact vendors to pick a new wedding date. First vendor to call? Your venue!
Notify Your Guests – If your wedding is scheduled during the next two months and has more than 10 guests, you must reschedule. Unfortunately, the decision has already been made for you by the government. The first step is to let your guest know what the original wedding is no longer happening on the original date. Not only is this step crucial, but it's also proper etiquette. Your guests must know in order to cancel any arrangements made. The best and easiest way to notify your guest is via email and social media. A "Postponed Until Further Notice" announcement can be done quickly! Of course, don't forget to reach out to those who live off the grid!
Keep Moving – Once you have your plan of action in place and have contacted all your original vendors, it's time to keep planning! Send out Change the Date Notes, re-evaluate your theme, but most importantly, keep moving. Your wedding day will be here before you know it!